Awkward Silences And Short Stories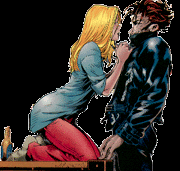 This section is devoted entirely to those most readable of stories: the short ones. The stories are listed by author, with prominent characters in italics.
Shorts by


Andrea
The Fault Lies Not in the Stars
Gambit, Joseph



Brooke
Promises
Domino, Cable



BJ Carlson
All She Is
Cable, Domino
Blue Lines
Domino



Cynjen
Dreams that go Bump in the Night
Angelo, Jono, Jubilee, Paige
From the Dais with the Closed Coffin
Hank, Monet
Graduation Day
Some Common People
Happy as a Dagger
Rogue, Angelo
Her Heart of Glass
Other Common People
Later, Loser
Reiko
The Long Walk
Jubilee, Angelo
Pandora's Box
Jubilee, Angelo
Red Bricks, Blue Water
Penance
Tears on My Pillow
Angelo
Well, she's just not Nicole, is she?
More Common People



Diamonde
In the Still of the Night
The Common People
Pillow Talk
Mystique, Forge



JenX
Bodyguards Don't Eat - Everybody Knows That
Monet
Dancing
Paige, Jono
Pillow
Rogue
Pure White
The White Queen
Suite
Generation X
Swimming in My Head
Generation X



Jufemme
A Rogue
Rogue



K-Nice
Cold Front
Iceman
Heated
Gambit, Rogue
Lost Lies
Gambit
Nightmares: Cyclops
Scott
Nightmares: Gambit
Gambit
Nightmares: Marrow
Marrow, Colossus
Nightmares: Psylocke
Psylocke
Nightmares: Storm
Storm
Reality
Rogue, Remy
Snipers
Rogue
Stolen Identities
The X-Men



Kielle
Apples And
Penance, Guido
Denouement
Remy, Rogue
Hearts and Diamonds
Jean



Lynx
Attack of the Evil Mutants
Three Common People
Blue Lines
Domino
Facing Up
Domino, Cable
A Good, Swift Kick in the Ass
Domino, Cable, Storm
A Smack in the Face is a Good Reality Check
Domino, Cable
A World Apart
Domino, Cable



Yasmin M.
Hero
Penance



Magik
Bruises Aren't Forever
Illyana, the New Mutants
Lace and Steel
Psylocke, Colossus
Untitled
The Endless



Joan Milligan
A Memory Saved
The X-Mansion



Pebblin
Should've Known Better
Psylocke



Queen Jubes
Bishop and the Kitten
Bishop
Cold Hands, Warm Heart
Iceman, Samantha
A Hard Question to Ask
Wildchild, Lorna Dane
Jean Gets Reckless
Jean, Reckless Kelly
My Lover, My Enemy
Sabretooth, Mystique
A Relationship To Be or Not To Be?
Sabretooth, Mystique
A Sinister Father
Kurt, Mystique
To Be or Not To Be Alive
Polaris, Guido
To Set a Date
Brian Braddock, Meggan
Together With Love
Psylocke, Angel
Wanted: Professor X
Professor X, the X-Cutioner



Riiyn
When All You Need Are Apples
Jonothon, Penance



Seraph
Free at Last
The X-Men



Skyrocket
A Monster Among Us
Common People



Snowy Icicles
The Bathroom Blues
Cyclops, Morph, Jean
The Gun Incident
Cable, Morph
The Kitchen Incident
Rogue, Morph
The Shirt Incident
Jean, the Shirt



Sequoia Swennes
When A Man Loves A Woman
Scott
Torn
Jean



Yona
It's Time to Go
Despair, Death, Delirium

---
---